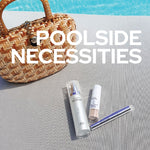 "In addition to my favorite book, sunglasses, and a hydrating beverage, I always make sure I bring my SPF Beauty Bundle to keep my skin protected from the sun. Xx Dr. Lara."
Formulated as an all-in-one sunscreen and foundation, this tinted protector moisturizes and provides sheer color coverage, minimizes the appearance of fine lines and wrinkles, and blends naturally to match every skin tone, leaving the skin radiant with a natural, healthy glow.
With an innovative peptide complex, Platinum Lip Plump helps to improve the size, softness and natural pink coloration of the lips. Broad Spectrum UVA/UVB SPF 30 protects the lips from sun damage.
This fine translucent SPF powder acts as the finishing step of any routine by correcting skin quality and using zinc and titanium to protect the skin from harmful UVA and UVB radiation.
My mineral based SPF 50 concealer uses zinc and titanium for a physical blockage of harmful UVA and UVB rays.