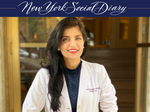 In a recent interview, Dr. Devgan spoke with New York Social Diaries about everything from her insights about being in a male-dominated field to her residency experience to preserving identity and optimizing beauty. 
For Dr. Devgan, a typical day starts with getting her children ready for school, hitting the gym, and making a cup of coffee. She relies on her morning routines to get her through surgery days. On top of being a practicing doctor, Dr. Devgan, who also runs a master class, and is actively involved in various charitable organizations. If that wasn't enough to have on one person's plate, she also runs her own skincare line, Dr. Devgan Scientific Beauty, a medical-grade skincare line which champions science and beauty. Within the past year,  the skincare brand has rapidly grown,  boasting launches at big name retailers such as Sephora, Net-A-Porter, and Ssense to name a few. When asked how she does it all, Dr. Devgan simply replied "Just one step at a time. One day at a time." 
It's no secret that plastic surgery is a male-dominated field, however, you can't help but feel like men are dictating beauty standards for women when you realize  that the majority of plastic surgery patients are women and the majority of plastic surgeons are men. . "What I am trying to do in this field is to make plastic surgery feel more empowering for women — that these little aesthetic changes that people may want to make are coming from a place of self-confidence and body positivity." Dr. Devgan is changing the game and using her own female identity to inform her practice. "It's a weird concept," say Dr. Devgan, "to go have somebody put a sharp object in your face or body because you want to look prettier. That's just an inherently weird concept." But what's not weird is human's desire to put their best face forward. "Whether it means working on your abs, or blow-drying your hair or putting on your perfect lipstick shade or your perfect mascara, we all want these little iterative improvements that make us feel confident and make us feel attractive. And I think that there's a way to make plastic surgery feel good to people — where they don't feel like a different person, they just feel like a better version of themselves." It's about still looking like you, but better. Subtle changes through surgical or non-surgical procedures for beautiful and natural results has become Dr. Devgan's trademark.