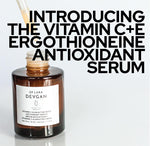 "I am so thrilled to announce the launch of my newest product: the highly anticipated
Vitamin C+E Ergothioneine Antioxidant Serum
! This is our most powerful vitamin C serum ever! It is a powerful blend of 20 percent vitamin C, Vitamin E, Ergothioneine, green tea polyphenols, and plant based antioxidants. You are going to absolutely love it for rejuvenating and brightening your skin!" Xx Dr. Lara.
What does it do?
Dr. Lara Devgan's new
Vitamin C+E Ergothioneine Antioxidant Serum
is a potent cocktail of 20% Vitamin C, Vitamin E, Ergothioneine, and green tea polyphenols. Together, these ingredients scavenge free radicals, reduce signs of aging, hyperpigmentation, and promote a youthful and bright glow.
How can I incorporate this into my routine?
How does this compare to the Vitamin C+B+E Ferulic Serum?