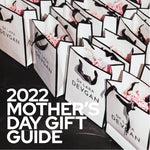 Show your mom the love and appreciation she deserves by gifting her glowing and healthy skin. Xx Dr. Lara.
Formulated with an innovative peptide complex, the Platinum Lip Plump helps to improve the size, softness and natural pink coloration of the lips. Broad Spectrum UVA/UVB SPF 30 protects the lips from sun damage.
This science backed formula curls and lengthens lashes while delivering an intense carbon-black pigment. Designed to dovetail with Platinum Long Lash.
Our cult-favorite eyelash and eyebrow serum enhances the appearance of the length, density, and thickness of eyelashes and eyebrows. Some users report more beautiful lashes appearing in as little as six weeks with full improvement taking up to five months.
An anti-aging essential! This mixed-molecular weight Hyaluronic Serum is the latest innovation in skin care for a "glass skin" look. It boosts collagen, smooths the appearance of fine lines, hydrates the skin, improves dermal barrier function, and reactivates collagen and elastin production.
Formulated nourishing ingredients including algae, aloe, and witch hazel to deliver an ultra soothing and anti-inflammatory effect.