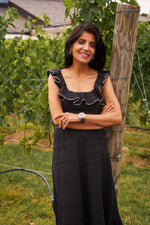 In a lavish affair that epitomized luxury and elegance, the Hamptons played host to a spectacular event celebrating the unveiling of Rosewater House's exclusive Hamptons Capsule at the picturesque Wölffer Estate Vineyard.
The soirée, attended by elite guests and influencers, showcased a seamless blend of fashion, beauty, and cutting-edge technology. Partners of the event, including Dr. Lara Devgan Scientific Beauty, Larroude, Whoop, and Sara Shala, contributed to an unforgettable evening of sophistication and innovation. The Hamptons Capsule, a testament to refined taste and opulence, captured the essence of the coastal haven. The event was exquisitely captured by Spotlight Magazine. 
At the end of the celebration, all guests received a special surprise from Dr. Lara Devgan herself, her viral cult must-have Platinum Lip Plump SPF 30 and complete total wellness multi-vitamins Multi Bears.