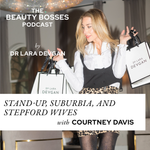 New Episode of my podcast, BEAUTY BOSSES!
Comedian, Creative Director, and self-proclaimed "serial shopper" Courtney Davis joined me in my New York City office for the latest episode of Beauty Bosses! An NYC city girl turned certified Connecticut housewife, Courtney Davis is living the life most only dream of and taking her comedy and style along with her. Courtney sits down with me this week to talk about being a woman in comedy, gentle parenting, and being a "bad Stepford Wife".
Listen on Spotify and Apple Podcasts.
Follow Courtney on Instagram @thecourtneydavis
Vacation at her and her husband's hotel @thebraziliancourt