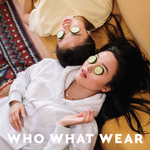 I was recently featured in Who What Wear. I share my thoughts on the top ingredients and products that can help tighten and firm the face.
What are the best ingredients for reducing signs of aging while brightening, hydrating, and nourishing the skin? I recommend focusing on products that boost collagen production and hydration like peptides, hyaluronic acid, retinol, squalene, niacin, and antioxidants like resveratrol. My line offers a variety of products that promote a bright complexion while reducing signs of aging.
Featured Products:
1.
RETINOL + BAKUCHIOL SERUM
2.
NIACIN + SQUALENE NECK CREAM
3.
PEPTIDE EYE CREAM
4.
RESVERATROL NIGHT CREAM
5.
HYALURONIC SERUM