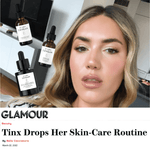 Everyone's favorite TikTok beauty Tinx shares her skincare secrets and her Dr. Lara Devgan essentials: The Serum Superheroes Collection.

"I put my money in my skin care; that is where I like to invest. So I love the Dr. Devgan vitamin C serum. It has vitamins C, E, and B. It's really good. I've used it for many years. Everybody knows Dr. Devgan does my Botox, and she's a doctor, but she's not only a plastic surgeon: She's also a woman and a mom and a scientist, and I think that's why her products work so well. I also use her retinol. I was really afraid to start using retinol just because a lot of people break out using it, but I love her retinol. I love her Hyaluronic Serum too." -Tinx.

Here is a breakdown of the three serums that Tinx uses to get her skin glowing and healthy.

You can shop the Tinx Edit here.