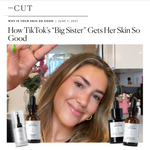 Big sister energy! TikTok's "Big Sister," Tinx, shares her skincare routine with The Cut, including four of Dr. Devgan's products in the lineup. 
It's no secret that Tinx is a fan of Botox. In fact, she makes it a point to be transparent about plastic surgery to her fans. She notes, "Now that I have a platform, I don't want to create any unrealistic standards. So if I look a certain way and people like how I look, I want to tell them exactly what I did to get there." She's become mindful of the impact of skin can have on one's self-esteem which is why she's Dr. Devgan's biggest fan. Dr. Devgan's medical-grade skincare line has proven to deliver real results. Tinx, a user of Dr. Devgan Scientific Beauty and a patient of Dr. Devgan, notes, "Dr. Devgan is amazing — I would trust her with my life. Because she's a plastic surgeon, you know she's thinking deeply about each product, and she's not going to put her name behind anything she hasn't totally tested. My mom actually found her, and it was just by the grace of a good God that we stumbled into the best plastic surgeon in the world."
Here are some of Tinx's comments on her favorite Dr. Devgan Scientific Beauty products: (Our Anti-Aging Essentials). 
Hyaluronic Serum:
"This hyaluronic-acid serum makes your skin look so dewy and helps it retain moisture. It totally transforms your face. You can be looking really gray and kind of flat, and you put it on and it makes your skin look supple and juicy."
Vitamin C+B+E Ferulic Serum:
"I use this serum morning and night. I would drink it if Dr. Devgan told me to. I used to use the Skinceuticals C E Ferulic — the one everybody uses — but I like this one better. You know, my theory is that if it smells nasty, it's working. Like, this just doesn't smell the best. It's hard to articulate the difference I've seen with it, but I just know it's something that I need to do and I use it religiously."
Retinol + Bakuchiol Serum:
"I tried many different retinols before, and my skin freaked the fuck out. I know there's an adjustment period with retinol products, but my skin just never took to any others — it was constantly peeling and red, almost like a reaction. I've been using this one for four months, and my skin's texture has changed. It's smoother. I have fewer brown spots. I'm just overall more youthful. I'm going to hopefully build my skin up to the 5x concentration soon because I want more power. For the first week, I used it three times a week, then I used it five times a week. Now I'm up to every night."
Peptide Eye Cream:
"For the longest time, I didn't believe there was an eye cream that worked. I didn't think there was anything powerful enough but also light enough that would sink into my skin. And I love this one because it does both. With other eye creams, I would wake up and my eye socket would be greasy. And again, because it's Dr. Devgan, I trust the eye cream and know that it's actually helping my under-eye area and it's not just goop sitting on my face. Since I started using it, my eye bags look less dark, and my eye creases are slightly smaller. I've been using it maybe six months, and I'm converted."