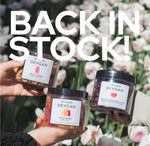 "My Best-Selling Total Wellness Trio is Back in Stock! My line of Gummy Nutraceuticals has been formulated to nourish your insides, helping you look and feel your best. Achieve the full benefits by taking all three nutraceuticals in conjunction. This is one of my most-loved collections, and it sells fast! So stock up now!" Xx Dr. Lara.
Our orange flavored Collagen Booster Hearts are formulated with a unique blend of plant based ingredients that help boost the production of collagen.
Our berry flavored Beauty Bears are formulated with Vitamin A, Vitamin E, Vitamin B6, Vitamin B12, and Calcium to supplement a glow from the inside out.
Our pineapple, strawberry, and orange flavored Multi Bears are formulated with a robust combination of nutrients to give daily support to a healthy diet.