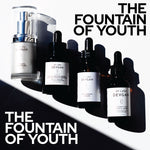 "We are living in an era of minimalism and subtlety. We are no longer chasing wrinkles, but rather thinking about the structure and balance of the face. Beauty is in the details, and my Anti-Aging Essentials will make subtle yet dramatic results in the texture and complexion of the skin.. Modern beauty means allowing everybody to be their own kind of beauty without judgment or toxicity. Xx Dr. Lara."
Retinol+Bakuchiol Serum
Retinol + Bakuchiol Resurfacing Serum is a powerful combination resurfacing serum that fights the signs of aging and improves skin quality.
Vitamin C+B+E Ferulic Serum
This powerful antioxidant skin booster delivers impactful results for anti-aging, protection against free radicals and brightening in a supple and easy to use serum.
Hyaluronic Serum
Boosts collagen, smooths the appearance of fine lines, hydrates the skin, improves dermal barrier function, and reactivates collagen and elastin production.
Peptide Eye Cream
This powerful formula has been shown to rejuvenate and nourish the delicate skin in the periorbital (eye) area to boost collagen, reducing the appearance of fine lines, crows feet, dark circles, puffiness, and the feeling of tiredness and aging.