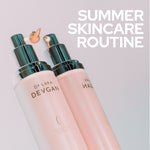 "Here are five essential steps for a well-rounded summer skincare routine. X Dr. Lara." 
Cleanse
I love the Advanced Revitalizing Cleanser because it is gentle enough to use twice a day but effective for removing makeup and environmental impurities.
Exfoliate
My granular microdermabrasion scrub is a physical exfoliant that helps to improve texture, softness, and absorption of actives for all skin types. 
Hydrate
Replenish the skin with my brand new Hyaluronic+Cannabis Calming Serum. This serum's anti-inflammatory properties instantly soothe irritation while repairing the skin's barrier function. The hyaluronic acid hydrates the skin from within while boosting collagen production. 
Brighten
My new Vitamin C+E Ergothioneine Antioxidant Serum is a potent cocktail of 20% Vitamin C, Vitamin E, Ergothioneine, and green tea polyphenols. Together, these ingredients scavenge free radicals, reduce signs of aging, hyperpigmentation, and promote a youthful and bright glow.
Correct and Protect
A stellar, all-in-one product that moisturizes, protects against UVA and UVB radiation and uses a proprietary pigment to provide sheer coverage that blends naturally to match every skin tone.