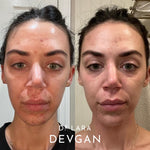 This is Julia. She sent us her beautiful skin transformation and journey.

"I rarely do this, but I just wanted to email my sincerest gratitude for these skincare products. A little over a month ago my skin flared up BAD after months of persistent acne and nothing I seemed to do could get it back under control. At my wits end I ditched all of my products and purchased the acne system. It has changed by life. Not only has it completely changed my skin in a months time, but it's given me my confidence back (and the ability to leave the house without make up for the first time in years)! I've included picture proof!"

When we feel good in our skin, we exude confidence and radiant energy. I love when my clients send me before and after photos of their skin transformations. This is exactly how my real client, Julia, felt after using my ACNE DEFENSE SYSTEM for just one month!

My ACNE DEFENSE SYSTEM is a 4-step approach skin care regimen to combat acne as well as prevent it. Formulated with clinically proven ingredients such as Salicylic Acid, Benzoyl Peroxide, Lactic Acid, and Glycolic Acid. These ingredients work together to effectively control sebum production as well as acne causing bacteria that forms on the skin.

Thank you to this beautiful real client for sharing her skin transformation.