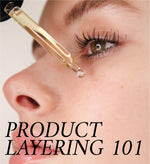 One of my most frequently asked questions is about product layering, and my approach to product layering is actually very simple. You want to think about using products in the order in which they are going to benefit your skin and dermis the most.

Start out with serums. These are lightweight products including my Hyaluronic Serum and Vitamin C + B + E Ferulic Serum.

Actives: This includes my Retinol + Bakuchiol Serum and Acne Control Serum that contain skin changing formulations.

Moisturizers: this includes my Advanced Recovery Cream, Resveratrol Night Cream, and Peptide Eye Cream.

SPF: this includes my SPF 44 BB Cream, SPF 47 Sun Shield, SPF 50 Dusting Powder, and SPF 50 Concealer.

Make-up: My Extreme Lengthening Mascara, Platinum Lip Plump, and anything else you may like to add will be included in the last step.