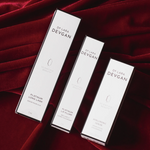 Lips, Lashes, and Luminous Skin
My PLATINUM BEAUTY COLLECTION includes my three core essentials for enhancing the face, eyes, and lip area to maintain a glowing youthful appearance.
My PLATINUM BEAUTY COLLECTION contains my cult favorite and medical grade PLATINUM LIP PLUMP, PLATINUM LONG LASH, and HYALURONIC SERUM. Together they dovetail to enhance our most important facial features such as beautifully plump lips, dramatically lengthened appearing lashes and eyebrows, and glowing dewy skin.

Hyaluronic Acid is a popular lip filler ingredient among certified plastic surgeons for its properties in moisturizing the lips as well as increasing volume. When applied topically, they can achieve the appearance of fuller lips which makes PLATINUM LIP PLUMP the next best thing to injectable lip filler.

My PLATINUM LONG LASH harnesses the power of effective science backed ingredients like phyto peptides, clover flower extract, and Provitamin B5 to create a healthy environment for healthy lash and brow follicles. As a result, it helps achieve the appearance of longer lashes and eyebrows by allowing them to grow further and decrease strand fallout.

The ultimate HYALURONIC SERUM for optimal hydration and the perfect "glass skin" look. Formulated with advanced mix molecular weight hyaluronic acid, it continually hydrates the skin, boosts collagen production, and provides a beautiful dewy finish making it perfect for those long nights out.