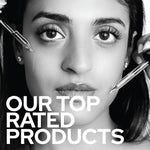 "The reviews are in…here are the top rated products for the month of May. Xx Dr. Lara."

Platinum Long Lash
Our cult-favorite eyelash and eyebrow serum enhances the appearance of the length, density, and thickness of eyelashes and eyebrows.  Platinum Long Lashes hair-stimulatory nutrients and lightweight liquid formula promote the appearance of longer lashes and healthier brows. 
Platinum Lip Plump
A CULT MUST-HAVE, medical-grade lip plumper rich in collagen producing ceramides and hydrating nutrients to promote lip hydration, visible volumization, improvement in pink color and antioxidant protection immediately upon application- in the form of a clear gloss. 
Vitamin C+E Ergothioneine Antioxidant Serum
An intense age defying serum that delivers protection against free radicals, soothes inflammation, fights hyperpigmentation, and boosts complexion and elasticity of the skin. 
Vitamin C+B+E Ferulic Serum
The perfect serum for glowing skin and reducing signs of aging. Featuring high potencies of vitamin C, E, B5, and Ferulic acid. 
Hyaluronic Serum
The latest innovation in skin care for a "glass skin" look. It boosts collagen production, and smoothes the appearance of fine lines while improving hydration. It is liquid gold in a bottle.