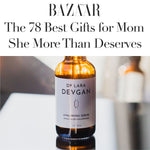 "Whether you're into skincare or not, this product is the holy grail for smooth, supple skin."
Honored to have my Hyaluronic Serum featured in Harper's Bazaar's The 78 Best Gifts for Mom She More Than Deserves.
My mixed-molecular weight Hyaluronic Serum is the latest innovation in skin care for a "glass skin" look. It boosts collagen, smooths the appearance of fine lines, hydrates the skin, improves dermal barrier function, and reactivates collagen and elastin production. Clinical studies showed an improvement in skin quality in as little as two weeks of regular use. This product is suitable for combination, dry, sensitive, and normal skin types.