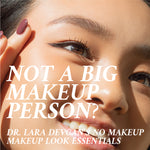 Not a Big Make Up Person?

How To Achieve a No Make Up Make Up Look

"In the past two years, we have been staying home a lot more, and this has changed a lot of our makeup routines. I am here to tell you that you don't need to pile on layers of foundation and concealer to look glamorous. Follow my simple steps for the ultimate no makeup, makeup look." Xx Dr. Lara

Step 1: Hyaluronic Serum: Apply a full dropper on a freshly cleansed face and neck for a glassy smooth appearance.

Step 2: Extreme Lengthening Mascara: Apply a few strokes on the upper and lower lashes for dramatic and bold eyes.

Step 3: Platinum Lip Plump: Before heading out the door, apply the Platinum Lip Plump for hydrated and juicy lips!