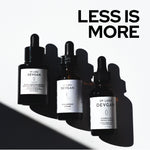 "My philosophy as a board-certified plastic surgeon and skincare CEO is "less is more." All you need are a few HIGH QUALITY ingredients that are consistently used to see incredible transformations. Xx Dr. Lara."
The base for every skincare routine should be a
Hyaluronic Serum. My Hyaluronic Serum
is fortified with growth factors and niacinamide to boost collagen production. This serum hydrates the skin at a variety of tissue depths, improves barrier function, boosts collagen, and gives the skin a dewy and fresh finish.
My powerful, medical-grade vitamin C serum is fortified with vitamin B, vitamin E, ferulic acid and acetyl octapeptide to deliver a clinical improvement in brown spots, hyperpigmentation, melasma, and evenness of skin tone.
My revolutionary combination of Retinol and Bakuchiol helps to accomplish 4 important things: reduces fine lines and wrinkles, improves hyperpigmentation and melasma, shrink pores, and decreases blemishes.