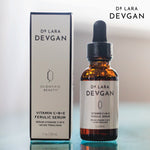 What makes my
VITAMIN C+B+E FERULIC SERUM
different from other Vitamin C Serums is its powerful blend of vitamins and antioxidants that work together to effectively protect the skin from damaging free radicals and against aging of the skin.
⠀⠀⠀⠀⠀⠀⠀⠀⠀
Vitamin C is a powerful antioxidant that protects the skin from the damaging effects of free radicals caused by sun damage.
⠀⠀⠀⠀⠀⠀⠀⠀⠀
Vitamin B is a powerful vitamin that helps reduce the appearance of age spots, sun spots, and other forms of discoloration. It is also known to be a hero for fighting skin aging such as fine lines and wrinkles.
⠀⠀⠀⠀⠀⠀⠀⠀⠀
Vitamin E is a fat soluble vitamin to fight inflammation and improve the texture of the skin.
⠀⠀⠀⠀⠀⠀⠀⠀⠀
xx Dr. Lara