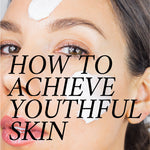 "My approach to anti-aging is to use products that resurface, hydrate, and increase rapid cell turnover of the skin. This improves imperfections such as blemishes, fine lines, and hyperpigmentation. Using a variety of products that work together is the ideal approach to successful aging." Xx Dr. Lara
Dr. Lara Devgan's Anti-Aging Must-Haves
Apply daily for an extra boost in collagen, hydration, luster, and a glass skin quality.
Apply in the evening to help treat fine lines, pore size, blemishes, discoloration, and overall skin quality.
A rich, nourishing night cream formulated to deeply hydrate and repair the skin's barrier function to help improve skin texture and diminish signs of aging.
This powerful eye cream contains hydrating ingredients such as Vitamin E, Vitamin B5, and caffeine that are crucial for preventing fine lines and crow's feet.