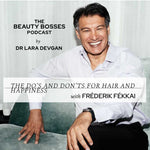 As we look forward to a brighter 2021, we are taking a look back at some of the most memorable guests on Dr. Lara Devgan's podcast, Beauty Bosses in 2020. 
Notable among her guests was hair expert, entrepreneur, and French phenom, Frédérik Fékkai. Fékkai was the first to make hair experiential in 1989 with the opening of his groundbreaking salon on the seventh floor of Bergdorf Goodman. Not only could you get your hair cut, but you could have breakfast, get your makeup touched up, and maybe bump into Cindy Crawford or Tom Cruise. He took things a step further by creating hair products based on the fundamentals and technology of skin care. Fékkai has elevated shampoo to a luxury, and continues to innovate. 
If nothing else, 2020 has shown us the importance of self care. Looking to make a move in your career for the New Year? Fékkai has you covered there too. Here are Frédéric Fékkai's top ten Do's and Don'ts for Hair and Happiness in your career as we move into 2021:
DO

alternate shampoo! Make sure your pH does not get stagnant.
DON'T

put too much shampoo all over your hair--concentrate on and massage the scalp.
DO

rinse well -- never leave shampoo in your hair.
DON'T

put conditioners or treatments on your roots; only put them on the ends.
DON'T

overdue coloring or highlighting your hair or it will become overprocessed.
DO

follow your passion. Fékkai believes leaving law school to pursue his dreams was the best thing he's ever done. In his mind you don't need a gift, you just need passion and a reason.
DON'T

second guess yourself.
DO

be prepared. Have a wide knowledge of your work, so that when you're exposed to a project you are equipped with a library of ideas.
DON'T

use hair ingredients that are black listed like silicone, sulfates, and parabens.
DO

use sustainable products--his line is made out of 95% recycled plastic and is 100% recyclable, and he continues to fund research to use natural resources to substitute for plastics.
All of Dr. Devgan's Beauty Bosses episodes are available to stream on Apple, and you can listen to Fékkai's interview here. Happy New Year from all of us at Dr. Lara Devgan, MD and Scientific Beauty!