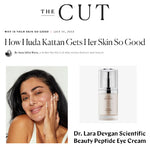 When it comes to achieving flawless skin, celebrities often turn to the most cutting-edge skincare products to maintain their radiant glow. Huda Kattan, renowned beauty influencer and makeup mogul, has recently revealed her go-to skincare product in The Cut's most recent article,
"How Huda Kattan Gets Her Skin So Good."
Among her coveted skincare essentials, Dr. Lara Devgan's Peptide Eye Cream stands out as the secret behind Huda's enviable complexion. Explore why our revolutionary
Peptide Eye Cream
has become a favorite of beauty enthusiasts worldwide, and why Huda Kattan swears by it.