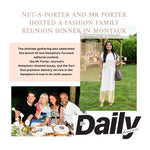 Alison Loehnis of Net-a-Porter and Mr Porter hosted a 'fashion family dinner Out East,' marking Net-a-Porter and Mr Porter's return to in-person events after a year apart.
Dr. Lara Devgan was among those in attendance at The Crow's Nest in Montauk, NY, along with other tastemakers, influencers and entrepreneurs from all over the globe.
Fashion Week Daily covers the attendees in all their summer sartorial splendor.