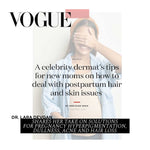 This past week, Dr. Devgan shared her expertise with Vogue India on how to best battle skin and hair issues common in pregnant women. Post-baby skin and hair problems can occur in women who have never experienced these obstacles before, and the stress of resolving unforeseen skin problems can be daunting for new mothers. Luckily, Dr. Devgan is no stranger to the effects that pregnancy and motherhood have on the skin, being a mother of six herself. In writer Parizaad Khan's article, Dr. Devgan recommends various products and in-clinic procedures for combating hyperpigmentation and melasma, dullness, hormonal acne, and hair loss and thinning. 

Hyperpigmentation and melasma are the first common skin issues that Dr. Devgan addresses. For combatting this problem, she recommends ingredients such as vitamin c and e, retinol, and bakuchiol. Our Vitamin C+B+E Ferulic Serum is a pregnancy-safe choice and our Retinol + Bakuchiol Serum can be incorporated after pregnancy and nursing. In terms of in-clinic procedures, microinfusion, micro-needling, peels, and lasers are recommended.

Skin hydration is another common problem among pregnant women. For preventing skin dryness and loss of skin elasticity, Dr. Devgan suggests using a hyaluronic serum to rejuvenate the skin.

For hormonal acne, Dr. Devgan notes that analyzing your daily routines "like cleansing the face, regularly changing pillowcases, and sterilising cell phone screens" is the first step in combating blemishes. Benzoyl peroxide and salicylic acid are two ingredients that fight and prevent acne. Our Acne Defense System is a 4 step treatment that contains both benzoyl peroxide and salicylic acid as well as other acne fighting ingredients. This is a great collection to turn to and will soon be sold separately. These products can also be accompanied by in-clinic treatments like an Intense Pulsed Light procedure for best results.

Lastly, Dr. Devgan acknowledges the range of solutions for hair loss and thinning during postpartum. Varying from client to client, solutions for hair growth issues include taking supplements with biotin, folate, and vitamin and B and in-clinic procedures such as Platelet Rich Plasma injections.

For a simple, comprehensive approach to postpartum skincare, try Dr. Devgan's Pregnancy Collection. This collection contains the 5 products that will be gentle, yet effective, on the skin in order to achieve results.
By Caroline Campos