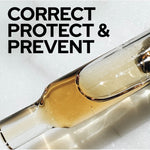 It's time to correct, prevent, and protect the skin, and get a gorgeous summer glow going.
Correct
Finally a
retinol
that is safe to use in the summer. Bakuchiol, an antioxidant and anti-inflammatory ingredient, helps soothe irritation and redness associated with retinol.
Prevent
Protect
The
SPF 44 BB Cream
is our all-In-One tinted sunscreen is composed of zinc, titanium, and a universal pigment that blends to any skin tone to provide sheer coverage, and keep the skin looking healthy and beautiful all summer long.