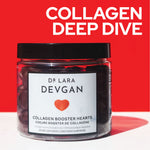 Collagen Deep Dive
"Collagen is a naturally occurring protein that helps to keep our joints, bones, hair, skin, and nails healthy. As we age, our collagen production decreases which is what can cause the appearance of fine lines, brittle hair & nails, and joint pain.
Increasing our collagen intake through ingestible gummies or serums will help to increase the production of collagen, helping you look and feel like your best self. Xx Dr. Lara"
My Collagen Booster hearts are vegan and vegetarian gummies that improve the appearance of skin elasticity. These are data-driven and science-backed gummy vitamins to support beauty from the inside out.
An ultra hydrating serum formulated with an advanced mixed molecular weight hyaluronic acid to plump and rejuvenate the skin, reduce fine lines, increase skin firmness, and improve elastin production.
A powerful blend of antioxidants and botanicals to promote a bright complexion, intensify protection against free radicals, reduce inflammation, increase collagen production, and decrease hyperpigmentation.
This serum's anti-inflammatory properties instantly soothe irritation while repairing the skin's barrier function. The hyaluronic acid hydrates the skin from within while boosting collagen production.